How to schedule automated voice messages
Ozeki Bulk Messenger uniquely makes it possible for you to define the time intervals of your calls when you manage an automated call campaign. The time of calls is a keypoint: the result of your call campaign highly depends on it. Calling your customers in an unconvinient time may result in unexpected accomplishments. For example they will not answer your pre-recorded questions. What's more people may realize your call as an annoyance and they ignore it. Below you can find the solution to avoid this incident: you can schedule your calls with Ozeki Bulk Messenger.
When you use Ozeki Bulk Messenger hundreds of pre-given recipients will hear your voice message via telephone at suitable time. And these all cost the less effort on your side. With just a few clicks in the Settings menu of Ozeki Bulk Messenger you can determine the convenient time.
Just a few click to customize the time of your calls
You can determine the time interval you wish Ozeki Bulk Messenger to forwards your calls. Click on Settings menu and in the Service periods tab you can give the earliest time and the latest time between your calls will be completed. In addition you can select the days you wish your recipients to receive your message. Then click on Save. Figure 1 demonstrates that scheduled calls can be given in Service period tab.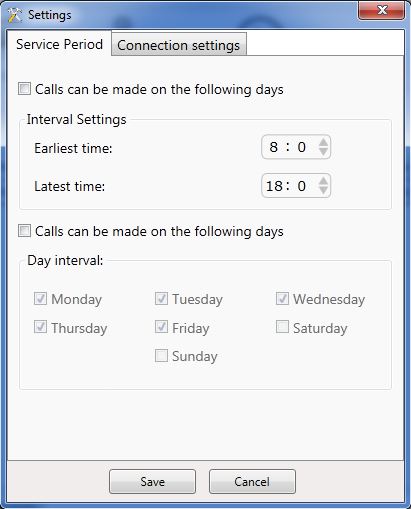 Figure 1 - Service period settings
For more setting information click here !
In this way you are protected from annoying your business partners or your customers at nights or at weekends when they are not interested in business or marketing information.