Save your time on making calls
Time is one of the most important elements of our life nowadays. "Time is money" - they say. So we have to devide it. All of our activities need time. But fortunately in our developed world there are some time-saving solution, that really helps us to save time. One of these solution is Ozeki Bulk Messenger which saves the time are spending on phoning. Below you can find how you can save time by making calls with Ozeki Bulk Messenger.
This software product enables you not to spend your valueable time on calling people to make survays, advertise your business, or remind them to an important meeting appointment. Even if these things are really important for you, there will be no more missed business appointments or people who do not know about your new product or service.
By using Ozeki Bulk Messenger these important information got to people via phone easily with the less effort of you. Ozeki Bulk Messenger can record your voice message, and can call hundreds or thousands of telephone numbers. So you can call thousands of people in one call campaign. How can you do that? You can find below some functions of Ozeki Bulk Messenger are enables you to save time on calling a great deal of telephone numbers.
Learn how to cut down the time-consuming phoning
You can create a phone number list to a CSV file. You are allowed to give even thousands of telephone numbers. Then you can load your call list from a CSV file by clicking on Load call list in the toolbar. In this way in the Phone numbers section the telephone numbers will appear and the software calls a great deal of people in one call campaign (Figure 1).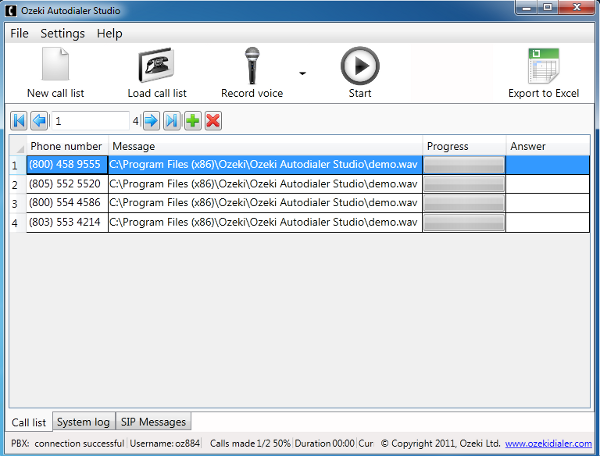 Figure 1- Uploaded phone numbers in the call list
After that, you can select a voice message you wish to be played to people. Or you have chance to record a message. So you have to tell one time your message, and it will be recorded. Than it will be played again and again to great deal of called parties. The appliance of recording your message is viseable on Figure 2.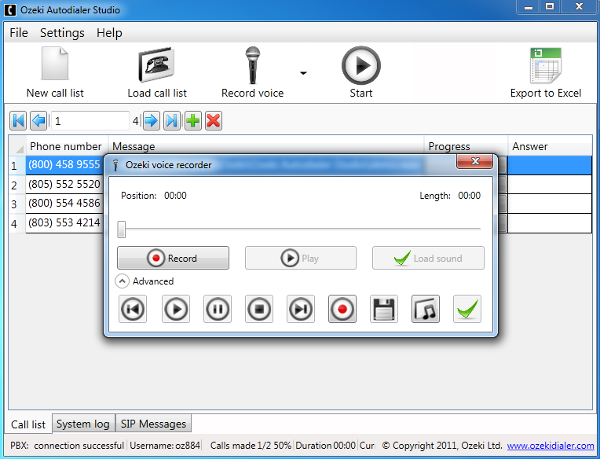 Figure 2 - Record a message
You also have a chance for analyse the issue of your call campaign. But you do not need to spend extra time for analising results of dialing. The software gives you information on answeres given by called parties. So that you can recieve information about how success is your call campaign under the calling process (Figure 3).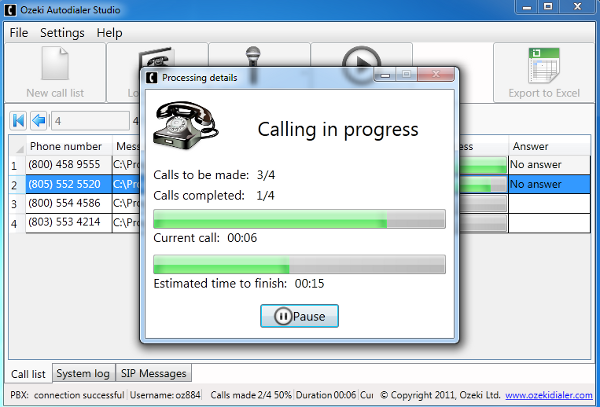 Figure 3 - Under dialing process
In addition you do not need to monitore the calling process when will it be fhinished, because you will recieve message from Autodialer Studio, that informs you on the "Calls completed" (Figure 4).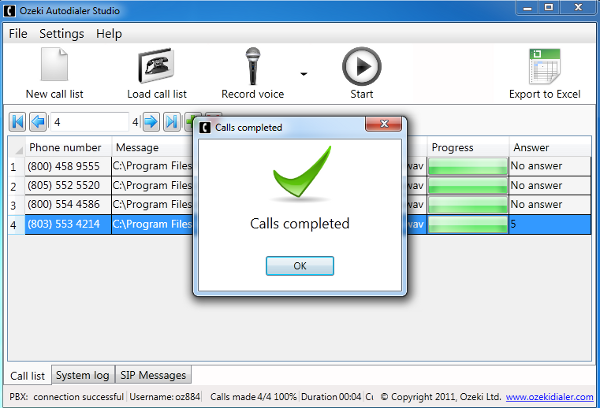 Figure 4 - Calls completed