Featured product in Communication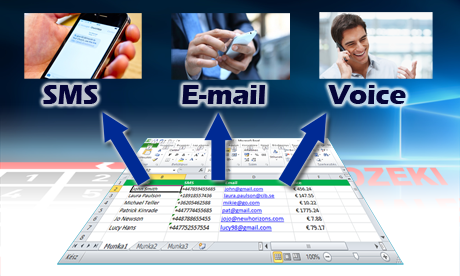 Ozeki Bulk Messenger
Professional Bulk SMS, E-mail and Voice Call System. It allows you to import your contacts from various sources, and deliver personalized information.
| | | | | | | | |
| --- | --- | --- | --- | --- | --- | --- | --- |
| | SMS | | E-mail | | VoIP | | Downloads: 10330 |
SMS text messaging
SMS text messaging is the number one way for businesses to communicate with customers and employees using mobile phones. It is used because it works on every mobile phone. You can also take advantage of SMS in your business, by installing

Ozeki NG SMS Gateway

in your company. With Ozeki NG SMS Gateway you can add SMS communication to your existing systems or you can create and operate new SMS driven services.


If you need a customized SMS solution, let us know, our software developers are here to serve you.
SMS text messaging products
Voice over IP (VoIP)
Voice over IP is used in modern telephone systems. It is the technology that makes it possible to transfer voice and video communication over the Internet.

Ozeki offers two VoIP products, a VoIP SIP SDK for C#.Net software developers, and a VoIP phone system. If you want to build Internet telephone solutions, these products will save you time, because they implement all the low level protocols needed for such tasks.

Computer Vision
Ozeki Camera SDK

If you are interested in USB cameras and IP Camera technology, automated image processing and computer vision, Ozeki Camera SDK is definitely something you should check out. This is a great tool for C#.Net developers who wish to work with cameras efficiently. This product offers high performance video frame capture and image processing functionality.

Robotics
The robot developer team at Ozeki is working on two exciting projects: "Bob-E" a remote presence robot, that can be controlled through a Virtual Reality (VR) headset and "Bob-E Mini" a super fast VR controlled 3D robot camera.

Both robots are capable of head tracking, they provide amazing 3D vision capabilities through a VR headset. They can be used on their own, or they can be customized and improved. Ozeki provides support for both end users and developers.

Both of these robots are using the Ozeki Communication and Computer vision capabilities, which gives us a huge advantage.
Robot Developer Training

Our on-line training for robot developers covers everything you need to get started with building robots. We cover all the major fields and prepare you to work with engineers and experts in specific fields. This training is useful if you want to build your own robots or you wish to manage a team who will build robots for you.
Tools and information for robot developers
If you are a robot developer, there are four main areas you should be familiar with. Each area offers great opportunities:



Mechanical Design
How to design a part
How to work with assemblies
How to use 3D printing
How to use a CNC

Electrical Engineering
Introduction to electronics
How to design a schematic
How to make a PCB
How to provide power


Low Level Software
How to program a Micro controller
How to communicate with a Micro controller
How to manage multiple Micro controllers
Data aquisition from sensors
Actuator control


Software Applications and Communication
How to manage multiple Micro controllers
How to manage sumultanous tasks
How to build the user interface of robots
High level motion control (3D simulation)
Computer vision