On-premises alarm system
---
Ozeki Alarm is the tool to handle todays IT emergencies. It can detect server failures, Internet outages, low disk space, system overload, website attacks and more. It will greatly increase the reliability and operational security of your critical IT infrastructure.

In addition to the new, revolutionary IT emergency features, it is equipped to interact with traditional alarm sensors, such as motion detection, smoke detection, etc. and it also makes it very easy to build custom sensors using micro controllers, such as Arduino or Raspberry PI.

Last, but not least we must mention it's great APIs. You will be able to send alerts using the HTTP API, by creating SQL database records, by sending e-mail messages or by simply creating a text file in a directory. Isn't this amazing? Try it now, you will absolutely love it.

Download
---
In your organization you will install many alarm clients and a small number of alarm servers. Click on the green button to download the alarm client, and the red button to download the alarm server. Clients do not require a license code. They can be installed freely. There is a free two-week trial for the alarm server. Following this period, you need to purchase a license code.
Cost: View prices...
Free two week trial.

Cost: Free
No license required.
Setup your alarm server
---
If you are an alarm service provider, who wants to offer alarm client connectivity to customers, or if you are the IT manager of an organization, and you wish to provide alarm service to developers or office users, you will like Ozeki alarm because it offers all the tools you need to launch and operate an alarm service reliably and efficiently. Check out the information below. These pages offer information on how to provide alarm services.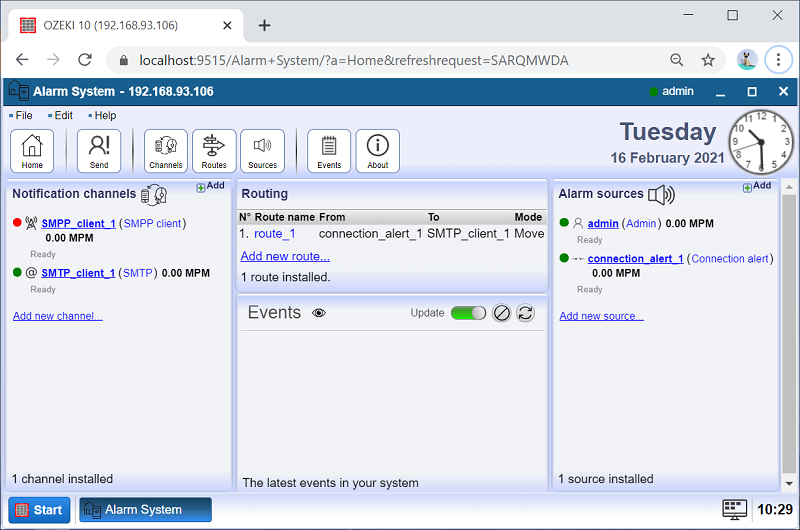 The first task you will do after installing Ozeki alarm, is setting up alarm message system. Next you will likely create user accounts our you will create an API access for software developers. Finally you will setup reporting to keep track of mnessages and to control the user activity in your service and devices.
Send alarm messages from applications
---
The best way to build a business is to rely on software instead of human work. Your automated software solutions will work precisely and reliable 24/7. Check out the following options offered for software developers by Ozeki alarm System. Developers can use these APIs to integrate alarm functionality into your applications, to make day-to-day operations more efficient.
alarm message APIs for developers
Send alarm message using HTTP

Send/receive alarm messages from a database
---
Common way to use relational database systems to store of the company data and the enterprise communication systems work with databases using SQL. Ozeki alarm software provides an easy way to create alarm functionality if you use a database. All you have to do is setup two database tables: one for sending alarm messages and another for receiving alarm messages, and let Ozeki alarm pick up the alarm messages to send using an SQL SELECT statement, and insert the incoming alarm messages using an SQL INSERT statement. More information about such a setup can be found in our SQL to alarm setup guide. Database server specific configurations are listed below.
SQL to alarm messages configurations:

Send alarm message from Microsoft SQL Server
Send alarm message from Microsoft Access
Send alarm message from Oracle
Send alarm message from MySQL
Send alarm message from PostgreSQL

Send alarm messages from Excel
---
Office users wish to use simple tools they are already familiar with and tools that already contain the data they work with. Such tools are Microsoft Excel, Access and E-mail. The following links help you provide tools for your Office users to make it easy for them to send and receive alarm message from the office PC's. You can send alarm messages from Microsoft Excel, Microsoft Access, you can create Txt files with a list of alarm users and messages text or you can use an Email to alarm message configuration.

Send/receive e-mails from your alarm client
---
Sending and receiving alarm messages using e-mail is a popular choice, because it is simple. Users can use their existing e-mail software and they don't have to learn about the user interface of a new application. It is also great, because existing IT systems, that send e-mail notifications, can very easily can be configured to send alarm message notifications.
If you wish to send and receive alarm message using e-mail, you can use Ozeki alarm. It can be configured to download E-mail messages from an e-mail address and it to can filter and send the appropriate e-mails as alarm message. It can also forward alarm messages as e-mail. If an incoming alarm message comes in, it will connect to your E-mail sever as an SMTP client and pass the messages to it through the standard SMTP protocol.
Read more about how to setup E-mail to alarm message forwarding using POP3 and SMTP client.

---